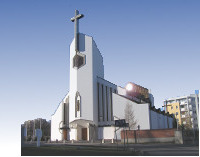 2016 New England Chinese Christian Conference
Aug 11-14, 2016
Bryant University
1150 Douglas Pike, Smithfield, RI 02917-1291
---
Pastor James Choi
New Thing: How the Gospel Transforms the Old to the New
"Remember not the former things, nor consider the things of old. Behold, I am doing a NEW THING; now it springs forth, do you not perceive it? I will make a way in the wilderness and rivers in the desert." –Isaiah 43:18-19
Session 1: New Redemption—Rejection to Redemption (Isaiah 42:18-43:21)
What does it mean for God to do the new thing? Through our text, we learn that the new thing that God is doing is actually what He has been doing all along—the eternal redemption of His people through Jesus Christ. Hence, how is God's work of redemption 2,000 years ago applicably "new" for us believers every day?
Session 2: New Covenant—Religion to Relationship (Jeremiah 31:27-34)
How is the new redemption made possible? In what ways is the promise of the New Covenant unlike any other religion? How does knowing that Christianity is all about God's work in us affect our daily living?
Session 3: New Life—Ruin to Resurrection (2 Corinthians 5:14-6:2)
Those who have come to understand God's new thing through the New Covenant are new creation according to 2 Corinthians 5:14-6:2. What does it mean then to live/have the new life?
Session 4: New Heaven & New Earth—Revelation to Restoration (2 Peter 3:1-18)
As New Creation living the new life, what is our motivation? What is the source of our hope? This message discusses how Christians live life now in light of "the end".
Session 5: New Day—Revolution to Resolution (1 Timothy 4:1-16)
In Christianity there are lots of talk about being radical and changing the world for Christ. In reality; however, as we mature in our faith, the Christian life is more about daily faithfulness rather than revolutionary radicalism. How can we be faithful in our Christian walk before God and others on a daily basis?
Seminar: The Necessity of the Articulated Gospel (Romans 10:1-15)
Most church going "Christians" are burdened by the reality that they do not share the gospel with others. This surprising because many church-going Christians simply do not know the gospel—at least, how to articulate the gospel. This is also because they were never taught how to explicitly articulate the clear and full gospel. This talk has 2 objectives—1) to share why it is necessary to articulate the gospel and 2) to teach students how to articulate the gospel.
---